From our beginning, SAC Motor strived to be the collision repair experts in Saudi Arabia by exceeding industry standards for customer experience, repair times, and doing it right from the first time. Our promise WE UNDERSTAND, as soon as you hear the tire screech and then the crunch you know you are in for a stressful situation, and wasted time from your busy life. What to do? Who to call? How much is it going to cost? How long will I be without my car? Relax. SAC Motor is here. Trust, our friendly professionals and our WOW process will make this a hassle-free experience and reunite you with your automobile in no time.
Everything we do is designed with your complete experience in mind, as we put customers first with a friendly and straightforward repairing experience. SAC Motor has an automated system that gives customers the information they need in a way they can easily understand. In addition, our SMS system notifies you about every step of the process, and this tells you where your car is for your convenience and understanding. If you choose to wait while we service your vehicle, you'll find a neat, clean, air-conditioned customer lounge and restroom. There's always a pot of hot coffee and friendly staff. We want you to know that we adhere to the rules to win your trust us all the time.
SAC Motor has developed the highest standard in the quality of work, we always strive to have 0 backorders, 0 defects. We believe that when our customers hand over the keys to their vehicle, they're also giving us their trust. We appreciate that, of course, which always is the basic premise of the quality of our work. With over ten thousands of repaired cars, SAC Motor's specialized technicians represent the pinnacle of professionalism in the repair industry. SAC Motor has earned the trust of many insurance companies in the Saudi market as a certified maintenance center.
One of SAC Motor's most important principles is customer comfort. That is why our team tries to provide a unique repair experience for our customers. SAC Motor provides a professional collision service that starts with a free estimate. We also include car towing and all repairs required to get your car back on the road in perfect condition. Once your vehicle enters our repair centre, our service specialist keeps in touch with you to update you on the repair status. We are keen to update you on everything that is fixed in your car.
SAC motor buys in bulk, and we pass a lot of the savings to our customers. We also know that spare part prices can be easily manipulated by buying non-original, aftermarket, or even used. We only deal with reliable vendors and are completely transparent with our customers on which parts are being used. And just to make sure of complete transparency we use the Audatex system which is dealer approved to provide the complete spare parts list that is needed.
At SAC Motor, we are dedicated to customer satisfaction. As our customer, your vehicle will receive the finest quality repair and we'll guarantee our work. Our policies and standards are designed to provide prompt, competent, courteous and professional services. Our philosophy, as professionals, is to provide excellent service and treat every vehicle as if it were our own. We specialize in high-quality repairs that remain under warranty for as long as you own your vehicle. When your vehicle is repaired by the SAC Motor service centre, this means that the work that has been done is guaranteed.
Time matters to all of us. SAC Motor will finish your car within 9 days, which is better than the industry standard of 21 days. We are certain that time is the most important matter for you when repairing your car. SAC Motor pays great attention to time, all processes are done under a fixed schedule, and all specialists will work hard to adhere to this schedule. We also take the speed even before we get the approvals, we speed up the process by having the free online estimation tool, the technician will notify you of this time when making an E-estimate, and our team will make every effort to finish the work as quickly as possible. Be certain, that speed at SAC Motor centre does not mean diminishing the quality of the job.
SAC Motor was established in 2016 with two centers in Riyadh and Khobar, SAC Motor wanted to provide a better experience to customers. SAC Motor did this by putting the customer in the center of the process of providing instant feedback on where the car is in the process of repair.
SAC Motor professional specialists can service all makes and models of vehicles and can do this without invalidating the manufacturer's warranty. Plus, because our specialists have a vast amount of experience in the industry, they can make effective, yet quick assessments and bring to light any issues that may need attention.
Through our continued research and investment in the most up to date technology, we have developed our own Quality Control Program. All vehicles enter an inspection point before advancing to the next stage. Each stage is worked on by a specialized technician, for the final quality control measure we use a completed repairs checklist to verify the quality and finish of your repairs which allows us to guarantee the work for as long as you own your vehicle.
At SAC Motor, we care for every detail of the repair process, and that begins with Simple, Hassle-Free Estimates. We know you are busy and want to fix your vehicle as quickly and hassle-free as possible. So, when you send an estimate request, one of our specialized estimators will inspect your entire information and photos, accurately identifying all damage related to your accident. Then specialists will carefully explain what the repair process involves, and what work will be required. Your submission will be reviewed by a SAC Motor Estimator within one business day. Click here to submit it online.
If you are in an accident and your vehicle is rendered un-drivable, SAC Motor Collision Repair Centre offers 24 hour towing services. You can quickly and easily get your vehicle to our shop to begin repairs.
SAC Motor uses the latest computerized technology to match the colour of your vehicle. In addition, we use waterborne paints. Water-based paints consistently produce a cleaner, shinny finish than solvent-based paints.
SAC Motor's promise extends beyond repair service. As part of our principles to enhance our customer experience, we make it so much simple to pay. We conveniently accept all payment methods including, Cash, Mada, Sadad and Credit cards.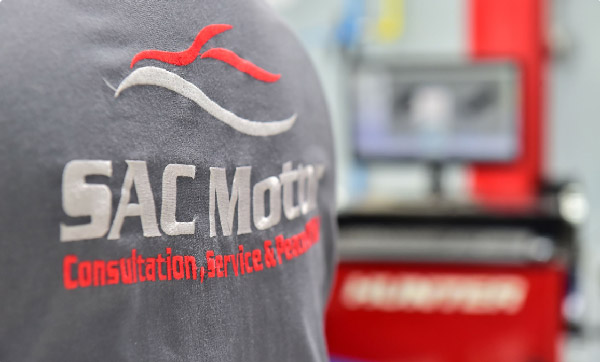 We understand that when you hand your keys to one of our specialists, you're putting your trust in us. At SAC Motor, earning the confidence of our customers is at the core of our culture. SAC Motor warranty assures the repairs to which we agreed together have been completed. We guarantee the work performed at the SAC service centre, so long as you own the vehicle. This warranty is non-transferable with the sale of your vehicle and shall apply only if the defects occur under normal driving conditions and are not due to an accident, negligence, abuse, misuse, fire or other casualties.
Excluded from this warranty are :
All repairs not done by us, all rust repairs and all rust related conditions
Inclusive of SAC Motor warranty are:
Welding, all structural work, metal and plastic repairs and Painting.
SAC Motor realizes the value that derives from its workforce, we provide opportunities for learning and growth to ensure that our team consists of professionals in their fields, and offer career advancement to all employees at all levels of the company.