Hate Feeling lost? SAC Motor developed a clear process which shows the customer where we are in the process. When you leave your vehicle with us, we'll hand back the keys hasslefree to its pre-accident condition. That is the SAC Motor Way – and it's our promise.
If you've been in an accident, and you would like your car to be repaired by the specialized workshop, simply upload a picture of the accident, your car details, and your contact details. We'll take a look and provide you with an initial estimate at no cost. A final appraisal will then be done in person when you arrive with your vehicle.
Using the Audatex Computerized Estimating System, one of our Specialized Damage Appraisers will expertly prepare a comprehensive damage estimate on your vehicle accurately detailing the parts and labour required to properly restore your vehicle to pre-accident condition.
After your vehicle is estimated and approved by you, you need to drop off your vehicle at the nearest SAC Motor location. We work with most spare parts suppliers to complete a final estimation and accurately assess any damage before we start making repairs.
After your vehicle collision is evaluated, it moves into a highly specialized body shop. First, we remove all parts requiring separate repair or replacement, and start body and structural repair work. All repair work undergoes a quality control inspection.
Once body work is complete, your vehicle moves to the painting and polish process. First, our specialized painters use computer technology to match the colour based on manufacturer codes before applying a two-stage painting inside the paint baking booth to give you a lasting finish. Your vehicle is then polished and prepared for reassembly before entering another quality control checkpoint.
Your vehicle returns to the body shop to reassemble all parts involved in vehicle repair. Once assembled, it passes through the final quality check to ensure all required repair work is completed accurately and that the job reflects our promise of excellence.
A journey at SAC Motor won't complete until we treat your vehicle well by a complete wash and vacuum. This final step ensures your vehicle will look pristine upon pick up and allows us to check cosmetic repairs one last time.
The final step before we return your repaired vehicle to you is an in-depth inspection on the work that was done, to ensure that our specialized technicians are satisfied with the job. That's why we've developed and implemented one of the most rigorous quality assurance programs in the industry.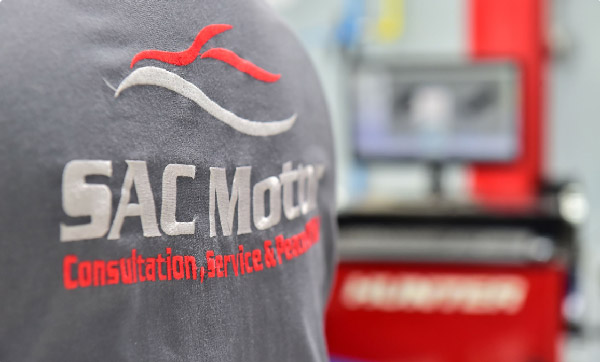 As soon as your repair is complete, SAC Motor team will contact you and invite you in for the final inspection. Your service advisor will review the vehicle and repairs side-by-side giving you the chance to ask any questions. The job's not done until you feel comfortable that your vehicle is ready, then we complete the final documentation and hand back your keys.